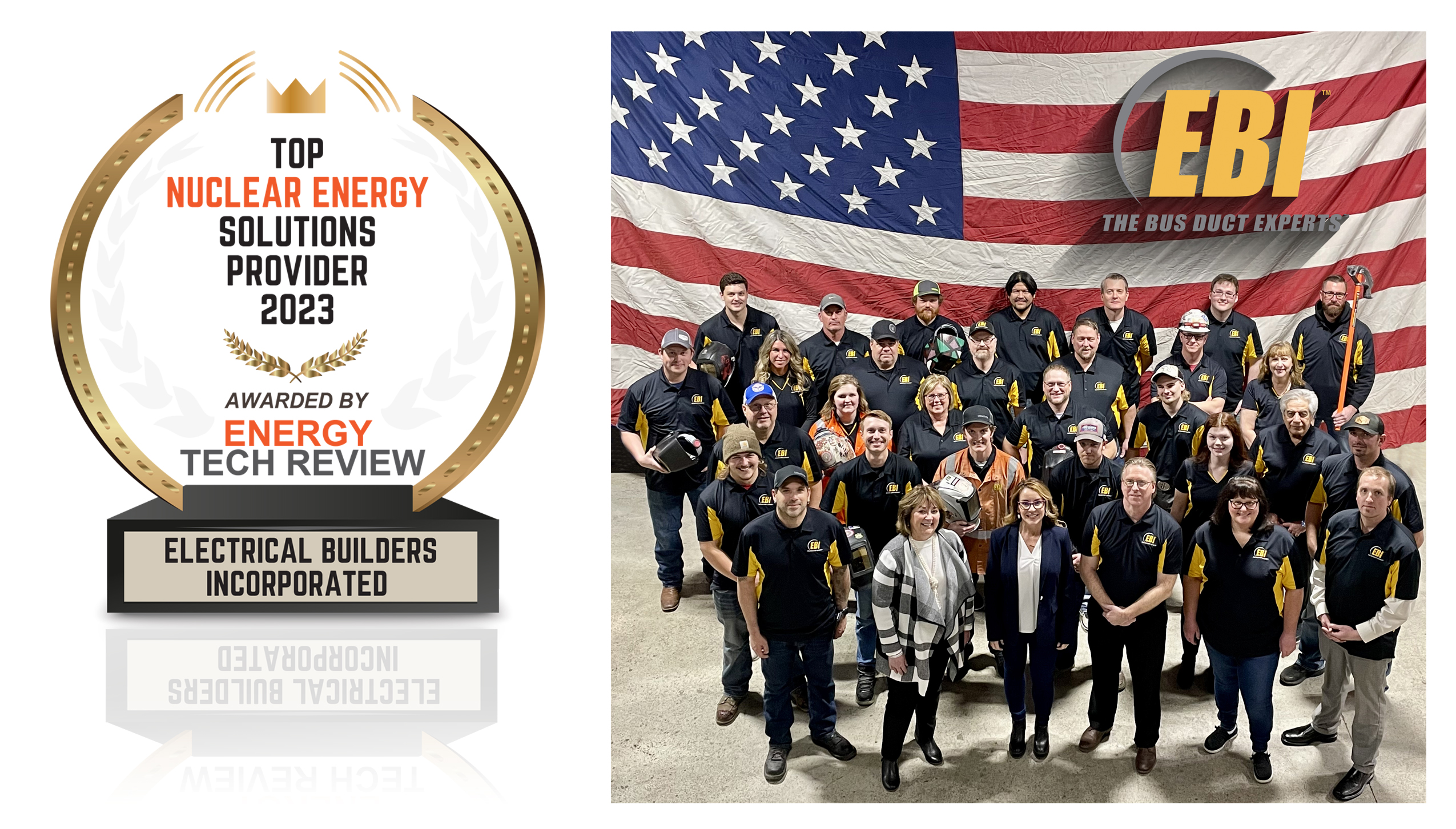 FOR IMMEDIATE RELEASE—St. Cloud, Minn. (February 27, 2023) — Electrical Builders, Inc. (EBI); the nation's premier specialty electrical and welding contractor for the power generation and refinery industries is pleased to announce they have been named a 2023 Top 10 Nuclear Energy Solutions Provider by Energy Tech Review.  EBI was recognized for their unmatched ability to shorten outage times, accomplish critical electrical component life extension objectives, and for their array of full service, turnkey solutions that ensures power plants continue operating at their peak performance. Energy Tech Review has also profiled EBI, featuring an interview with EBI's President, Jessica Netter, in the 2023 Nuclear Energy Edition of Energy Tech Review.
There has been a relatively recent revelation that traditional 'green initiatives' alone are not a feasible alternative to fossil fuels along with the realization that nuclear energy is the cleanest and most reliable green generation source that exists. As such, now more than ever, asset life extension efforts and sustainability of the nation's existing nuclear fleet is absolutely essential in ensuring a more resilient, net zero power grid.
"We are thrilled to be recognized as a Top 10 Nuclear Energy Solutions Provider," said Jessica Netter, EBI's President/Partner. "With the stigma of nuclear energy shifting, coupled with more and more nuclear plants being approved for re-licensing, it is vital to ensure these plants are operating safely and reliably. EBI aims to meet these challenges and mitigate risks of disruptions to service through our proactive maintenance and asset life extension services, onsite fabrication capabilities, aftermarket system enhancement solutions, and round the clock emergency services. This acknowledgement validates our long-standing reputation for pioneering new standards in quality and innovation and is a testament to our team's hard work, dedication, and commitment to doing 'Whatever it Takes' to exceed our clients' project expectations. Our highly skilled team and their devotion to delivering quality craftsmanship during each and every project is one of the key reasons we have been industry leaders for nearly 50 years. Being recognized for our efforts is such an honor," said Netter.
Energy Tech Review's nuclear energy awards identifies the best-in-class solution providers across a diverse range of applications and showcases their unique expertise and services. The award acknowledges the achievements made by exceptional leaders and teams that are raising the bar in the nuclear energy industry.
To read EBI's interview in Energy Tech Review, click here.
About EBI:
Since 1974, Electrical Builders Inc., (EBI) has been providing industry leading electrical, welding and testing services to power generation and utility clients across North America. Core competencies include: Electrical Bus Duct (IPB, Seg Bus, Non-Seg Bus, Cable Bus), Transformers (Installation, Replacement, Testing), 24/7/365 Emergency Services, Custom Fabrication, E-House & Control Building Installation, Substation Welding, and Professional Services (Contingency/Project Planning, Certified Weld Inspectors, etc.).
EBI's immensely talented welders, electricians and technical team bring a cumulative 260 years of expertise. In addition, EBI has serviced more than 75% of the United States nuclear fleet and has successfully completed more than 3,800 projects. EBI is woman and veteran owned/operated and proudly WBE and ISO9001 certified.